The role of herrings in England's penultimate witch trial and the subsequent part the narrative played in shaping the hysteria in Salem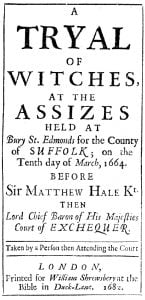 Title page of the trial account, dated in error 1664
In March 1662, at Bury St Edmunds Assizes two Lowestoft women, Amy Duny and Rose Cullender were accused of witchcraft. The suspicions of their neighbours had been longstanding, but came to a head when Duny was refused herrings by Samuel Pacy's wife:
Amy Duny came to this Deponents House to buy some Herrings, but being denyed she went away discontented, and presently returned again, and was denyed, and likwise the third time and was denyed as at first; and at her last going away, she went away grumbling; but what she said was not perfectly understood. But at the very same instant of time, the said Child was taken with most violent fits, feeling most extream pain in her Stomach, like the pricking of Pins, and Shrecking out in a most dreadful manner like unto a Whelp, and not like unto a sensible Creature.
The other main family in the proceedings suffered after similarly denying herrings to Cullender:
Edmund Durent… Sworn and Examined, said, That he also lived in the said, Town of Leystoff, and that the said Rose Cullender, about the latter end of November last, came into this Deponents House to buy some Herrings of his Wife, but being denyed by her, the said Rose returned in a discontented manner; and upon the first of December after, his Daughter Ann Durent was very sorely Afflicted in her Stomach, and felt great pain, like the pricking of Pins, and then fell into swooning fitts, and after the Recovery from her Fitts, she declared, That she had seen the Apparition of the said Rose, who threatned to Torment her. In this manner she continued from the first of December, until this present time of Tryal; having likewise vomited up divers Pins (produced here in Court.) This Maid was present in Court, but could not speak to declare her knowledge, but fell into most violent fits when she was brought before Rose Cullender.
Young girls all over Lowestoft were vomiting up pins, lath nails and even a Two-penny Nail with a very broad head. When Deborah and Elizabeth Pacy were sent to stay with their aunt in Yarmouth, the crooked pins and nails were carried to them in the mouths of a succession of Amy Duny's diabolical familiars, who were disguised as bees and flies.
Sir Thomas Browne, the most famous physician of his time, was called as a medical witness. He had views on the subject, which he had already in expressed in his bestseller, Religio Medici (1643): I have ever believed, and do now know, that there are Witches: they that doubt of these, do not onely deny them, but Spirits; and are obliquely and upon consequence a sort not of Infidels, but Atheists.
As a doctor, he had no difficulty with evidence that a number of teats were discovered on the lower belly and in the private parts of Cullender. Despite having had twelve children he was not an expert on female anatomy.
I could be content, he wrote, that we might procreate like trees, without conjunction, or that there were any way to perpetuate the world without this triviall and vulgar way of coition.
On pins and nails, however, he was an expert and told the court:
That in Denmark there had been lately a great Discovery of Witches, who used the very same way of Afflicting Persons, by conveying Pins into them, and crooked as these Pins were, with Needles and Nails. And his Opinion was, That the Devil in such cases did work upon the Bodies of Men and Women, upon a Natural Foundation, (that is) to stir up, and excite such humours super-abounding in their Bodies to a great excess, whereby he did in an extraordinary manner Afflict them with such Distempers as their Bodies were most subject to … but only heightned to a great excess by the subtilty of the Devil, co-operating with the Malice of these which we term Witches, at whose Instance he doth these Villanies.
It's hard to think what further proof the court might have needed, but the evidence was completed by one further fishy tale:
Ann Sandeswel… Deposed…. That her Brother being a Fisherman, and using to go into the Northern Seas, she desired him to send her a Firkin of Fish, which he did accordingly; and she having notice that the said Firkin was brought into Leystoff-Road, she desired a Boatman to bring it ashore with the other Goods they were to bring; and she going down to meet the Boat-man to receive her Fish, desired the said Amy to go along with her to help her home with it; Amy Replyed, She would go when she had it. And thereupon this Deponent went to the Shoar without her, and demanded of the Boatman the Firkin, they told her, That they could not keep it in the Boat from falling into the Sea, and they thought it was gone to the Devil, for they never saw the like before. And being demanded by this Deponent, whether any other Goods in the Boat were likewise lost as well as hers? They answered, Not any.
The girls, who between their fits and swoonings had been unable to give much in the way of coherent evidence during the trial, miraculously recovered upon Duny and Cullender's conviction and the old women were hanged a few days later.
The account of the proceedings was published twenty years later in the public fervour that surrounded England's last witchcraft trial. In this published form it was influential in creating the hysterical narratives which supported the 1692 witch trials of Salem, Massachusetts.