Drawing on street cries, composed for harpsichord, given lyrics by Jacobite-sympathising aristocrat Mrs Bogan of Bogan, a Scottish song
Wha'll buy my caller herrin'?
They're bonnie fish and halesome farin';
Wha'll buy my caller herrin',
New drawn frae the Forth?
When ye were sleepin' on your pillows,
Dream'd ye aught o' our puir fellows,
Darkling as they fac'd the billows,
A' to fill the woven willows?
Buy my caller herrin',
New drawn frae the Forth.
Chorus
Wha'll buy my caller herrin'?
They're no brought here without brave darin';
Buy my caller herrin',
Haul'd through wind and rain.
Buy my caller herrin',
New drawn frae the Forth.
Chorus
WhaIl buy my caller herrin'?
Oh, ye may ca' them vulgar farin'
Wives and mithers, maist despairin',
Ca' them lives o' men.
Buy my caller herrin',
New drawn frae the Forth.
Chorus
When the creel o' herrin' passes,
Ladies-clad in silks and laces,
Gather in their braw pelisses,
Cast their heads and screw their faces.
Buy my caller herrin',
New drawn frae the Forth.
Chorus
Caller herrin's no got lightlie:
Ye can trip the spring fu' tightlie;
Spite o' tauntin', flauntin', flingin',
Gow had set you a' a-singing.
Buy my caller herrin',
New drawn frae the Forth.
Chorus
Neebour wives, now tent my tellin';
When the bonnie fish ye're sellin',
At ae word be in yere dealin' –
Truth will stand when a' thin's failin'.
Buy my caller herrin',
New drawn frae the Forth.
Chorus
Nathaniel Gow
The tune for the song was written around 1798 by Nathaniel Gow, son of the great fiddle player and composer Niel Gow. Composed for the harpsichord it's an evocation of Edinburgh street sounds, the cries of the women selling fish and the peeling of church bells.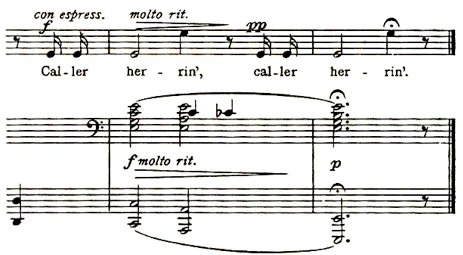 Sara Stevenson's Hill and Adamson's Fishermen and Women of the Firth of Forth (1992) notes that Gow's song, preserved the tones of the fisherwomen, with the music of whose cries, as they hawked their wares, he was so struck, that he had often followed them for hours on the streets of Edinburgh.
Fisherwomen were clearly a formidable musical and conflicted aesthetic presence. From the C18th to the C20th, it was not uncommon for men of an artistic sensibility to be as drawn to the younger fisherwomen as they were intimidated by the older ones.
The same book also quotes John Wilson on the singing fisherwomen in Noctes Ambrosianae, written in the 1820s:
Saw ye them ever marchin hamewards at nicht, in a baun of some fifty or threescore, down Leith Walk, wi' the grand gas-lamps illuminating their scaly creels, all shinin' like silver? And heard ye them ever singing their strange sea-sangs – first half-a-dizzen o' the bit young anes, wi as saft vices and sweet as you could hear in St George's Kirk on Sabbath, half singin and half shoutin a leadin verse, and then a' the mithers and granmithers, and ablins great-granmithers, some o' them wi' vices like verra men, gran tenors and awfu' basses, joining in the chorus, that gaed echoing roun' Arthur's Seat, and awa ower the tap o' the Martello Tower, out at sea ayont the end o' Leith Pier? Wad ye believe me, that the music micht be ca'd a hymn – at times sae wild and sae mournfu' – and then takin a sudden turn into a sort o' queer and outlandish glee? It gars me think o' the saut sea-faem – and white mew-wings wavering in the blast – and boaties dancin up and down the billow vales, wi' oar or sail, and waes me – waes me – o' the pair fishing smack, gaun down head foremost into the deep, and the sighin and the sabbin o' widows, and the wailin o' fatherless weans!
Lady Nairne
Carolina Oliphant, Lady Nairne, heard the tune being played at the country house balls around her own family seat at Gask in Perthshire. From a Jacobite family which had been exiled after the '45 rebellion and only returned two years before her birth in 1766, was the Scarlet Pimpernel of Scottish lyricists.
As well as Caller Herrin' she wrote Charlie is my Darling, Will Ye No' Come Back Again and many other frequently Jacobite-influenced songs, but she didn't admit to any of them. At the time of writing Caller Herrin' she used the pseudonym Mrs Bogan of Bogan. Later she pulled back to BB, SM (for Scottish Minstrel) or Unknown. Writing the lyrics out in a disguised or borrowed hand, she gave them to a confidante, who then passed them on to Gow.
There are many versions of Caller Herrin'. Like many of her songs and Gow's tunes, it has entered the tradition. I have chosen, however, to offer a link to that of the contralto Elizabeth Dews, recorded in 1906. I like to think it's the one Lady Nairne herself would have chosen.
External Links